John - Hahalua
Added on July 6th, 2017
Viewed 15770 views
Thanks for voting!
Manta ray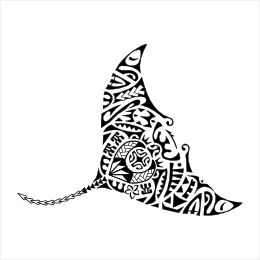 The turtle in the center of this manta tattoo prepared for John symbolizes a strong, united family (braid and flax leaves are symbols for family union and the Marquesan cross is a symbol for harmony).
The front flippers of the turtle protect two enata on one side (John´s sons) and another one with a frangipani flower on the other side (his daughter).
He is represented by the ...