DESCRIPTION AND MEANING:
Giuseppe requested a tribal tattoo containing the letter F, headletter from the name of his daughter, who will be born soon.
We used fire as the basis because it symbolizes transformation, change, and the blooming lotus flower, symbol of perfection and of overcoming every difficulty to represent the birth of this new life. The central petals join in a twist, which symbolizes eternal love for this daughter, and the rays around it recall the sun (life, eternity, joy).
The flames that make the stalk of the flower form the letter F.
permalink: //www.tattootribes.com/index.php?idinfo=1173
NEW!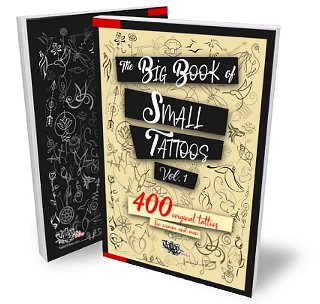 THE BIG BOOK OF SMALL TATTOOS
400+ small original tattoos for women and men
Whether you are approaching tattoos for the first time and want to start small, or you're a longtime fan and only have just that tiny little spot left, you will appreciate this book and its philosophy: small & meaningful.
Add color, and you'll have a design that is absolutely one of a kind and personal!


eBOOK:
$ 7.99
- PRINT:
$ 13.99
on Amazon!