DESCRIPTION AND MEANING:
We prepared this floral rib design in Art Nouveau style upon Bella´s request.
To honour her name, which means "beautiful" in Italian, we placed on top two blooming flowers of magnolia.
The other flowers are primroses (pure love) an iris flowers (passion).
This design is fit for colour too, and here´s how it should be inked:
permalink: //www.tattootribes.com/index.php?idinfo=2368
NEW!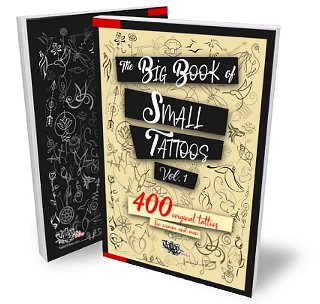 THE BIG BOOK OF SMALL TATTOOS
400+ small original tattoos for women and men
Whether you are approaching tattoos for the first time and want to start small, or you're a longtime fan and only have just that tiny little spot left, you will appreciate this book and its philosophy: small & meaningful.
Add color, and you'll have a design that is absolutely one of a kind and personal!


eBOOK:
$ 7.99
- PRINT:
$ 13.99
on Amazon!