Robert - Ohana
Added on January 9th, 2011
Viewed 16594 views
Thanks for voting!
Family, true friendship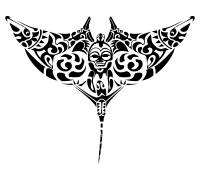 "Ohana" means in Hawaiian language "Family" intended as a group of dear people, not necessarily akin. Relatives, friends and anyone who is dear and loved can be included in the Hawaiian concept of family.
This tattoo wants to call protection and friendship (dolphins) and good luck (lizard) upon the bearer's family (turtle) which is placed in the center of everything, matc ...
1 related photos: