DESCRIPTION AND MEANING:
In this feminine tattoo for the forearm the flower of hibiscus is central together with two frangipani flowers representing Chantal and her daughters (the koru next to each one symbolizes new life), joined by a sun for joy and eternity.
The turtle next to it symbolizes family, with the couple on the shell.
The turtle´s flippers are waves, chasing birds for support with a star in front of them to symbolize help always granted to the loved ones as a fixed point within family, and a tiki hand for protection.
The braid symbolizes family unity, and mountains stability.
On top, the row of birds symbolizes voyages and the manta freedom, with a lokahi symbol next to it to symbolize harmony with nature.
The colored image below helps identifying the main elements within the tattoo: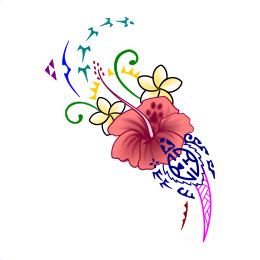 permalink: //www.tattootribes.com/index.php?idinfo=10069
WANNA KNOW MORE ABOUT THE SYMBOLS?
We have a site for that!
CHECK IT OUT >
And download the
FREE printable PDF cards of the symbols

!