DESCRIPTION AND MEANING:
We chose a hammerhead shark as the main symbol for Alison´s tattoo because it represents tenacity, determination and strength, and it´s a powerful protector in water.
It swims here past a path of Kamehameha into a row of birds to symbolize overcoming every challenge along her voyage toward a new life (the koru).
The couple is central for its importance, bringing stability (the mountains) and unity (the flax leaves), while the frangipani and the ipu are symbols of femininity and fertility, protected by the tiki eyes that shape the fins of the shark, and by the tiki hand.
The fish hook symbolizes abundance, and the lokahi symbol represents harmony.
The colored image below helps identifying the main elements within the tattoo: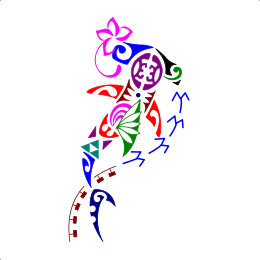 tags: 
hammerhead shark
,
frangipani
,
ipu
,
flax leaves
,
couple
,
path of Kamehameha
,
birds
,
lokahi
,
koru
,
family
,
union
,
femininity
,
protection
,
change
,
new start
,
fertility
permalink: //www.tattootribes.com/index.php?idinfo=10078
WANNA KNOW MORE ABOUT THE SYMBOLS?
We have a site for that!
CHECK IT OUT >
And download the
FREE printable PDF cards of the symbols

!