DESCRIPTION AND MEANING:
This design was requested by Luca for his thigh, and includes the important things for him: family, friendship and rugby.
The hammerhead shark motif (determination and strength) was used to symbolize his father and the sugar cane (sweetness, life) to represent his mother; they were placed on the sides of the turtle(family).
The twist enclosed in the turtle indicates eternal love, but also very strong friendship bonds.
In the center a stylized sun, shaped like a rugby ball, recalls the strength and beauty of this sport.
The tikis on both sides of the tattoo are there for protection, the shark teeth symbolize strength and adaptability and the fish hook is for wealth.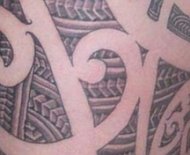 The suggested filling in case the whole thigh gets covered is a traditional one like the one here on the left, not to make the whole look too heavy.
permalink: //www.tattootribes.com/index.php?idinfo=1010
The Polynesian Tattoo Handbook 1 & 2
by TattooTribes