DESCRIPTION AND MEANING:
This Polynesian half sleeve and pec tattoo was prepared for Domingos and it includes a turtle centrally on the shoulder with flax leaves and braids to symbolize the importance of family.
A tiki protects the koru representing his son, supported by the parents on the back flippers of the turtle, with grandparents above the turtle protecting her together with ancestors.
The front flippers are fish hooks for prosperity.
The path of Kamehameha on the back of the shoulder represents challenges in the past, with the couple always being a fixed point through all changes (the star between the back flippers).
The flight of the albatross represents a new voyage together, with adaptability and strength (the shark teeth) toward a new prosperous life (the coconut leaves on the pec, and fish).
The two tiki on the sides of the armband protect family from all directions, and the armband part represents Domingo´s story.
The puhoro and load of Mataora motifs combined represent his active attitude towards life and sports and his ability to face physical challenges, while the stepping stones at the base symbolize all that he learnt and achieved along the way.
On the pec, the compass shows direction, and the hammerhead shark close to it represents his tenacity in pursuing his goals in order to achieve them.
Birds are for voyages and the spearheads symbolize the warrior.
The colored image below shows the main elements within the tattoo: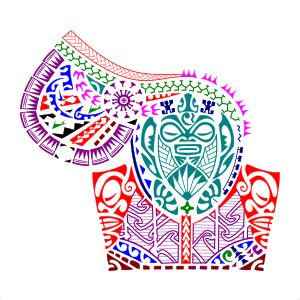 permalink: //www.tattootribes.com/index.php?idinfo=10113
WANNA KNOW MORE ABOUT THE SYMBOLS?
We have a site for that!
CHECK IT OUT >
And download the
FREE printable PDF cards of the symbols

!