DESCRIPTION AND MEANING:
Henna made tattoos have been present since ancient times, and their being temporary and totally unallergic makes them appreciated all over the world. Arabic and Indian cultures use them extensively to honour special celebrations: weddings, births, religious cerimonies, in order to wish good health, fertility, wisdom, protection and more. The Middle Eastern style, like the Arabic textiles, is mostly made up of floral patterns; the Nort African style follows the shape of hands and feet with floral geometrical patterns; Indian and Pakistani style (Mehndi) extends beyond hands and feet, giving the illusion of gloves and stockings through the use of lines, paisley patterns and teardrops; the Indonesian and Southern style are a mix of Middle Eastern and Indian style with the addition of block of color on the very tips of fingers and toes.
permalink: //www.tattootribes.com/index.php?idinfo=142
NEW!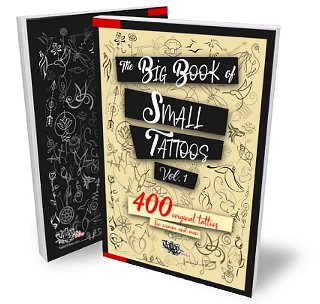 THE BIG BOOK OF SMALL TATTOOS
400+ small original tattoos for women and men
Whether you are approaching tattoos for the first time and want to start small, or you're a longtime fan and only have just that tiny little spot left, you will appreciate this book and its philosophy: small & meaningful.
Add color, and you'll have a design that is absolutely one of a kind and personal!


eBOOK:
$ 7.99
- PRINT:
$ 13.99
on Amazon!