DESCRIPTION AND MEANING:
Trees always had a primary role in many peoples mythologies, often being revered as material manifestations of some deities.
Every tree has its own meaning, but they all represent life, growth, unity. With their roots plunging deep into earth and the branches springing into the sky they are held as linking elements between earth and sky both on a material and spiritual level, and between past and future, their trunk being the present.
A tree with spiraling roots was requested by Federica to go on her ankle. The spiral itself is a symbol of eternity.
Second version: double spiraling roots
permalink: //www.tattootribes.com/index.php?idinfo=1622
NEW!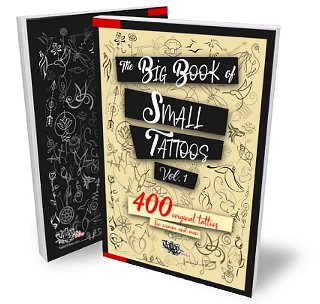 THE BIG BOOK OF SMALL TATTOOS
400+ small original tattoos for women and men
Whether you are approaching tattoos for the first time and want to start small, or you're a longtime fan and only have just that tiny little spot left, you will appreciate this book and its philosophy: small & meaningful.
Add color, and you'll have a design that is absolutely one of a kind and personal!


eBOOK:
$ 7.99
- PRINT:
$ 13.99
on Amazon!