DESCRIPTION AND MEANING:
In Greek mythology, horses are recurrent symbols of loyalty and courage. In order to understand the symbolism of Pegasus, we shall look at the way he was born: Medusa, a magnificent woman, was condamned by Atena to petrify everyone who looked at her, and once she got killed this pure winged horse raised from her spilled blood, and flew into the sky as if representing getting free from the curse, and going back to glory.
Also, from a spring formed where he once hit the ground, the nine muses were born, and thus the winged horse symbolizes also inspiration and creativity, desire for a spiritual elevation (let´s not forget that white symbolized pureness).
This stylized pegasus was requested by Francesca.
permalink: //www.tattootribes.com/index.php?idinfo=1788
NEW!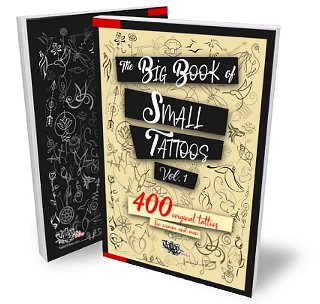 THE BIG BOOK OF SMALL TATTOOS
400+ small original tattoos for women and men
Whether you are approaching tattoos for the first time and want to start small, or you're a longtime fan and only have just that tiny little spot left, you will appreciate this book and its philosophy: small & meaningful.
Add color, and you'll have a design that is absolutely one of a kind and personal!


eBOOK:
$ 7.99
- PRINT:
$ 13.99
on Amazon!