DESCRIPTION AND MEANING:
The symbol called Hunab Ku is generally associated to the sun god of Mayan culture, and it symbolizes balance and life (resembling in this the Yin and Yang symbol whose look it also recalls).
Turtles, thanks to their longevity and slow pace are often associated to ponderation and hence to wisdom. They are also a symbol of voyagers on account of the long distances they go at sea.
This precolumbian styled was requested by Oscar.
A curiosity: the Hunab Ku was originally introduced by missionaries and it is derived from an Aztec symbol.
permalink: //www.tattootribes.com/index.php?idinfo=2241
NEW!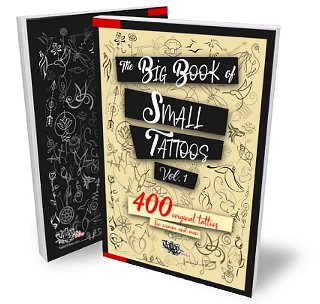 THE BIG BOOK OF SMALL TATTOOS
400+ small original tattoos for women and men
Whether you are approaching tattoos for the first time and want to start small, or you're a longtime fan and only have just that tiny little spot left, you will appreciate this book and its philosophy: small & meaningful.
Add color, and you'll have a design that is absolutely one of a kind and personal!


eBOOK:
$ 7.99
- PRINT:
$ 13.99
on Amazon!