DESCRIPTION AND MEANING:
In araldry, lily of Florence is the name that is given to the blooming iris, as it is represented on many coats of arms.
Michele requested a Maori-styled lily of Florence.
To achieve this, some traditional stylized Maori designs were used, like the fern, the fern bud, or koru, and the fish hook, to indicate protection and prosperity.
permalink: //www.tattootribes.com/index.php?idinfo=314
NEW!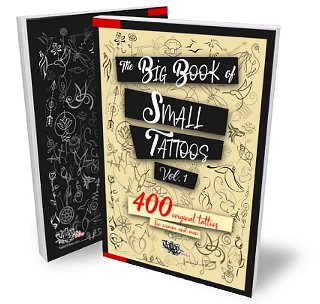 THE BIG BOOK OF SMALL TATTOOS
400+ small original tattoos for women and men
Whether you are approaching tattoos for the first time and want to start small, or you're a longtime fan and only have just that tiny little spot left, you will appreciate this book and its philosophy: small & meaningful.
Add color, and you'll have a design that is absolutely one of a kind and personal!


eBOOK:
$ 7.99
- PRINT:
$ 13.99
on Amazon!