DESCRIPTION AND MEANING:
Suzaku, or "Red Bird", is analogous to the phoenix, of which shares the main characteristics, and like the phoenix it is drawn with flaming feathers.
It represents Summer, the red colour, fire and knowledge.
It´s associated to the South, and appears in times of good fortune.
Ale asked for a phoenix thet would start on the foot and end on the ankle. Here´s how this tattoo should be made: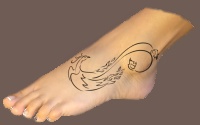 It can also be done in different spots by turning it vertically.
permalink: //www.tattootribes.com/index.php?idinfo=318
DO YOU LIKE SMALL TATTOOS?
You could get a FREE book!
Suggest a theme you'd like to see >
and if it gets in a new volume,
you get a FREE copy of it!