DESCRIPTION AND MEANING:
Ashaki requested a design of a butterfly viewed from side and formed by some symbols: Sankofa, Bese Saka, Aum, Ankh, Koru and infinity sign.
Sankofa and Bese Saka are Adinkra symbols meaning respectively "learn from the past" and "abundance, unity".
L´Aum is an Indian symbol representing the primeval mantra, consciousness.
The ankh is an ancient Egyptian symbol representing eternal life and protection.
The koru is a Maori symbol, representing the unfolding fern frond and symbolizing the continuity of life.
The butterfly itself is a symbol of freedom and transformation, rebirth.
This design joins opposing meanings like rebirth, transformation and continuity, eternity, past and future, and it represents the duality of everything, which is among the meanings of the Aum.
permalink: //www.tattootribes.com/index.php?idinfo=3228
NEW!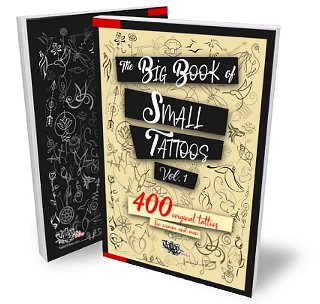 THE BIG BOOK OF SMALL TATTOOS
400+ small original tattoos for women and men
Whether you are approaching tattoos for the first time and want to start small, or you're a longtime fan and only have just that tiny little spot left, you will appreciate this book and its philosophy: small & meaningful.
Add color, and you'll have a design that is absolutely one of a kind and personal!


eBOOK:
$ 7.99
- PRINT:
$ 13.99
on Amazon!