DESCRIPTION AND MEANING:
Neela has been the national Badminton champion of her country 9 times in a row, and she loves this sport which plays such an important role in her life.
We thought of turning the back part of the shuttle into a crown, to symbolize how she masters this game, creating it with filigree motifs where a heart was inserted to symbolize hel love for this sport.
At the cork base we used a Polynesian motif, the hammerhead shark, to symbolize her determination and tenacity in achieving her goals and to recall the sea and the islands where she lives.
permalink: //www.tattootribes.com/index.php?idinfo=5197
NEW!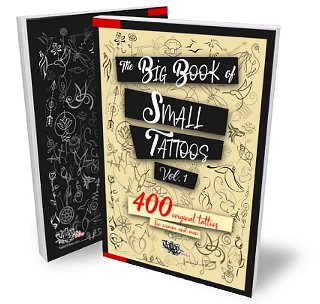 THE BIG BOOK OF SMALL TATTOOS
400+ small original tattoos for women and men
Whether you are approaching tattoos for the first time and want to start small, or you're a longtime fan and only have just that tiny little spot left, you will appreciate this book and its philosophy: small & meaningful.
Add color, and you'll have a design that is absolutely one of a kind and personal!


eBOOK:
$ 7.99
- PRINT:
$ 13.99
on Amazon!