DESCRIPTION AND MEANING:
Sara requested this tattoo of a Maori styled butterfly as a gift for her mother.
On the inside we incorporated the first letters of her daughters´ names, S and L
Butterflies represent beauty, lightness and transformation.
Below, a second bolder tribal version is shown: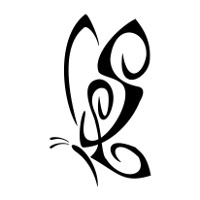 permalink: //www.tattootribes.com/index.php?idinfo=6320
WANNA KNOW MORE ABOUT THE SYMBOLS?
We have a site for that!
CHECK IT OUT >
And download the
FREE printable PDF cards of the symbols

!