DESCRIPTION AND MEANING:
The meaning of this design must not surprise: the days of the dead in Mexico, or "dia de los muertos", are not a mournful moment, but a chance to make the dear ones who died live again. It is believed that during these days the spirits of the dead can get in contact with the world of the living, and thus families decorate cemeteries with marigold flowers and candles, and prepare small altars on the graves where they offer to the dead their favourite meals, so that their essence can feed the spirits.
It´s also a moment to remember the dead by telling stories and anecdotes about them, often joyful and merry, strengthening the idea of family belonging.
This design is well fit for colouring, according to this festivity´s traditions.
The symbols we used recall death (skulls, scythe) but, following the Aztec tradition, they exalt life; in fact, death was seen just as a passage from the material life to a spiritual better level. This is the reason for material symbols such as the seed of the cards, roses to symbolize love and perfection, and the butterfly and fire as symbols of transformation and renewal.
Requested by Paul.
permalink: //www.tattootribes.com/index.php?idinfo=837
NEW!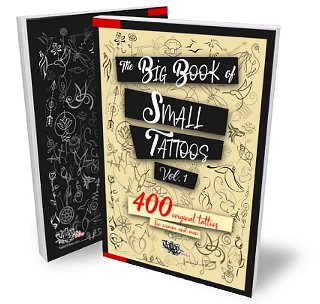 THE BIG BOOK OF SMALL TATTOOS
400+ small original tattoos for women and men
Whether you are approaching tattoos for the first time and want to start small, or you're a longtime fan and only have just that tiny little spot left, you will appreciate this book and its philosophy: small & meaningful.
Add color, and you'll have a design that is absolutely one of a kind and personal!


eBOOK:
$ 7.99
- PRINT:
$ 13.99
on Amazon!