DESCRIPTION AND MEANING:
Some turtles go back to lay their eggs on the shore where they were born, no matter how far it may be. Eggs of some species hatch on several different nights, while some species lay their eggs massively on a single beach, and they will all hatch on the same night, with millions of baby turtles struggling together to reach the sea, thus improving their chances to get there safe. Maybe this habit, and their longevity, earned them the right to symbolise "family" in Pacific cultures.
permalink: //www.tattootribes.com/index.php?idinfo=85
NEW!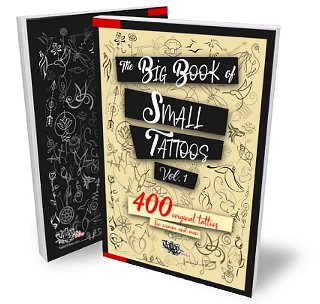 THE BIG BOOK OF SMALL TATTOOS
400+ small original tattoos for women and men
Whether you are approaching tattoos for the first time and want to start small, or you're a longtime fan and only have just that tiny little spot left, you will appreciate this book and its philosophy: small & meaningful.
Add color, and you'll have a design that is absolutely one of a kind and personal!


eBOOK:
$ 7.99
- PRINT:
$ 13.99
on Amazon!