DESCRIPTION AND MEANING:
This Polynesian turtle tattoo represents Guillermo´s family, his wife and children.
The turtle´s front flippers are open wide to symbolize moving forward, with two tiki protecting the family (the two children are next to each tiki with a breath of life and their initials nearby).
They are both supported by the female enata with a frangipani for femininity and fertility and uplifted arms to symbolize strength, while the frigate represents voyages and getting a higher perspective on the world.
The Lo kahi symbol within the manta is a symbol of harmony with nature, and of balance between nature, the world of humans, and the spiritual world.
The manta represents beauty and freedom, and we placed mountains in it and waves next to them on the back flippers to symbolize the freedom found both on land and in the ocean, with the star symbolizing it as the path to follow.
The sun surrounding mother and children is for joy, and the braid for family unity.
Close friends embrace the family on both sides.
The colored legenda below helps identifying the individual elements within the tattoo: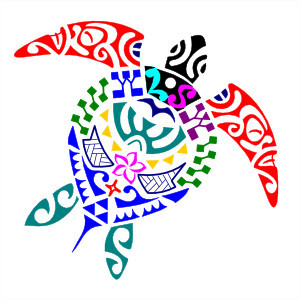 permalink: //www.tattootribes.com/index.php?idinfo=9629
WANNA KNOW MORE ABOUT THE SYMBOLS?
We have a site for that!
CHECK IT OUT >
And download the
FREE printable PDF cards of the symbols

!