DESCRIPTION AND MEANING:
In this Polynesian half sleeve tattoo prepared for Brian, family is central, represented by the turtle with the couple on the shell and 4 children under her flippers (the tiki protect them from all sides).
The ritorito motif symbolizes family unity, and so does the braid on the shell, while the waves with a row of birds below the turtle represent how they went together through many changes and challenges.
The sun and coconut leaves around the turtle represent joy and prosperity.
The rows of people below the turtle with a ponapona motif above them (it´s a symbol of allegiance and loyalty) represent his comrades.
The shark teeth, octopus tentacles, and spearheads symbolize tenacity, determination, and adaptability, and the flight of the albatross symbolizes voyage and safe return home. The all-seeing eye is to keep all evil at bay.
The flax leaves at the base symbolize family unity, and they are the base both for the turtle and for his second family of fire fighters.
The ahuahu o Mataora represents the steps along the challenging path that led him there, which he faced with tenacity and determination in the past (the hammerhead shark with a warrior in it) to become a guardian (the manaia) in his present and future.
The stepping stones at the base symbolize all that he learnt along the way.
The colored legenda below helps identifying the individual elements within the tattoo: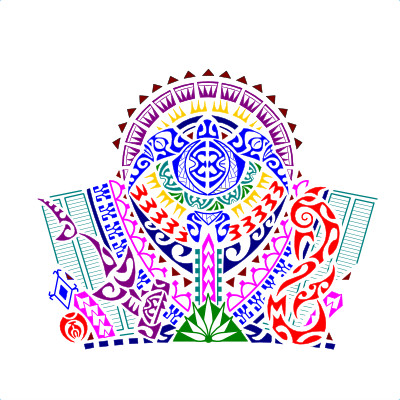 tags: 
family
,
turtle
,
hammerhead shark
,
manaia
,
flax leaves
,
birds
,
tiki
,
mataora
,
spearheads
,
path
,
firefighter
,
loyalty
,
union
,
protection
,
tenacity
,
prosperity
permalink: //www.tattootribes.com/index.php?idinfo=9655
WANNA KNOW MORE ABOUT THE SYMBOLS?
We have a site for that!
CHECK IT OUT >
And download the
FREE printable PDF cards of the symbols

!