Luciano - Tamariki
Added on May 14th, 2009
Viewed 24950 views
Children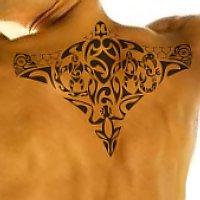 Joao Pedro requested a tattoo for his upper back that could be related to his children.
The main turtle in the middle and the two smaller ones on its sides represent family, and we used two twists (love, eternal bond) to join their fins together to represent their reciprocal indissoluble bond.
The left turtle has an "L" on its shell, and it´s surrounded by a sun (for li ...
2 related photos: