Dee - Sparrow
Added on October 28th, 2009
Viewed 34421 views
Memory, love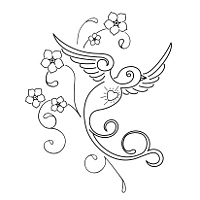 The sparrow has been one of the mostly used symbols in the old school classic style to represent a safe voyage, and a safe return.
This design, which could be coloured with light shades, was prepared for Stefania, to wish a safe voyage to an unborn baby, and to tell him he will always be in her heart.
The flowers used in this design are flowers of forget-me-not.
1 related photos: