ZivenTattoos - Stylized dragon
Added on November 3rd, 2009
Viewed 24492 views
Thanks for voting!
Strength, protection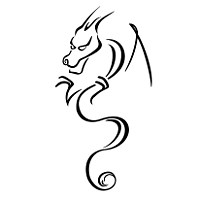 The dragon represents in Asian cultures a symbol of power and strength, connected with water and magic. It is in fact the most powerful symbol of the Chinese zodiac, and it was the Emperor´s symbol.
Wendy requested a small stylized dragon to go on her ankle.
2 related photos: