Geoff - Whakaoranga
Added on January 20th, 2010
Viewed 22741 views
Recovery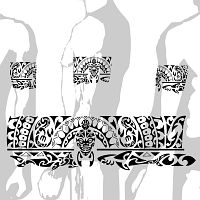 Maoris usually prefer not to lock armbands, as many people believe that a continuous non-stopping line could block the flow of mana, or vital energy.
That´s why we chose to use a continuous blackline to symbolize a disease that can be mortal. We did not close it though, and there´s a reason to this:
through determination, adaptability and strength (white shark and hammerhea ...
2 related photos: