Jade - Hau
Added on April 20th, 2010
Viewed 19736 views
Inspired by "Hau"
Wind, life essence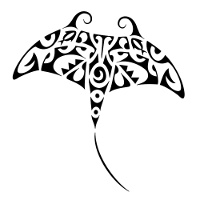 Mantas are a symbol of protection on the water, and they symbolize freedom, elegance and beauty. That´s why we thought we´d call this Hau, which means wind, vital essence.
The hammerhead shark on the inside represents determination and tenacity, and the shark teeth symbolize the strength to face any change (the waves).
Fish hooks, and the fish too, are symbols of abundance; ...