Cheryl - Lucky lizard
Added on August 18th, 2010
Viewed 18483 views
Protection, luck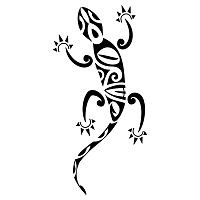 Anna requested a Maori styled lizard for her foot, to bring her good luck on a new start.
The lizard symbolizes luck and guidance, and on her inside we placed a tiki, symbolizing protection, and a fish hook (for islanders of the Pacific Ocean a fish hook was enough to have food, thus it symbolizes prosperity and wealth).
The legs are made of korus, which are symbols of new beginning, a ...
1 related photos: