Stefano - Sun moon lizard
Added on September 8th, 2010
Viewed 30150 views
Thanks for voting!
Lucky life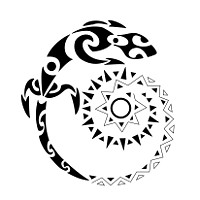 The lizard symbolizes life, luck, and the spiral is a symbol that has always been used to represent eternity and neverending cycles.
In this case the spiral is born from the sun, another symbol of life and joy, and together they symbolize a life developing along with luck and happyness; shark teeth represent strength and adaptability.
Requested by Giulia.
2 related photos: