Rebecca - Heartigram and flowers
Added on November 24th, 2010
Viewed 17843 views
Thanks for voting!
Union, love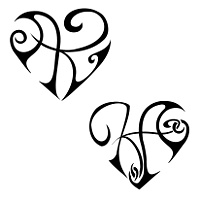 Here at TT we call heartigrams those designs which join together the headletters of two names in order to shape a heart.
This kind of design symbolizes the bond that exists between the people represented by the letters.
This heart shaped by joining K+A was requested by Kirsty.
1 related photos: