Sara - F+A heart
Added on March 18th, 2012
Viewed 27036 views
Thanks for voting!
Union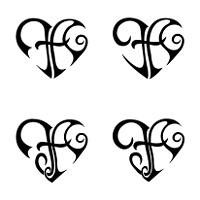 The heart is popularly considered the source of emotions, and in particular it is a symbol of love.
A heart made of the headletters of two names symbolizes love between those two people.
A heart (here in four variants) made by joining F and A was requested by Francesco.