Luke - Whakapaparanga
Added on January 17th, 2018
Viewed 14079 views
Story, series of layers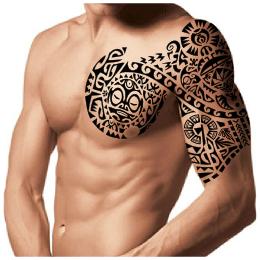 This half sleeve tattoo extending onto shoulder blade and pec tells the story of Luke and of his family, from past to present.
A constant element in his family´s history is voyage, represented by various rows of birds and by a line of waves (change) starting on the shoulder blade and ending on the pectoral, binding the whole tattoo together.
Family is the other main elemen ...