Poulomi - Flames
Added on April 24th, 2018
Viewed 14743 views
Towards the sea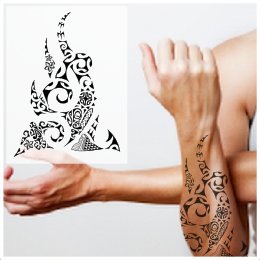 This flame shaped tattoo was created for Patricia and it mixes water and fire, sea and mountain, both important in her life.
This dualism is also evident in the shape on Mount Cervino, on the lower edge, designed using a braid motif and a traditional Hawaiian pattern.
A surfer tiki stands under the sun with the board made of spear heads to symbolize the joyous warrior riding the ...