Angela - Family lotus
Added on July 16th, 2021
Viewed 373 views
Thanks for voting!
Perfection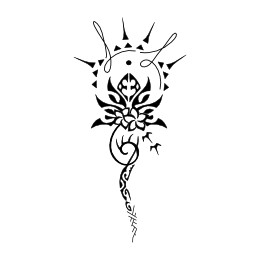 This Polynesian style tattoo shaped like a lotus flower was prepared for Angela and it represents family as her perfect place to be.
It´s surrounded by a sun (eternity, joy) where two of the rays shape the initials of her children, while the dot symbolizes a fixed point, importance.
The center of the lotus is shaped by the couple symbol and the surrounding petals are tiki eye ...