Rennee - Cancer
Added on May 16th, 2010
Viewed 27477 views
Star sign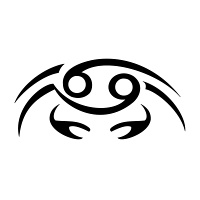 According to the western zodiac, people born in the sign of the cancer, moon connected, have a strong emotionality that they often hide under a thick carapace, similar to the one of their symbolic animal.
They have a quick intelligence and tend to get deeply involved in all of their activities and experiences.
Giuni requested a stylized design of her star sign blended with the number 2 ...
2 related photos: