Eric - Trishula
Added on April 23rd, 2013
Viewed 19505 views
Eternity, unity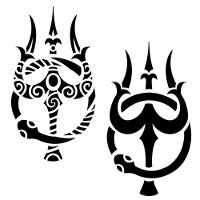 The trishula is a weapon similar to the trident and in hindu symbology it is associated to many meanings.
The three blades are associated to many trinities of values, such as past, present and future, or creation, maintenance and destruction among the others.
Related to the human body it represents the three main channels of energy meeting at the brow.
In its meaning of unity of ...