Red requested a Maori styled tattoo to cover up an old tattoo on his arm, extending all around his shoulder.
Working on the shape of the original tattoo, we thought of covering it with korus delimiting a sun made up of various elements, like shark teeth (strength), the tiki and te te manaia (protection and balance), the turtle (navigator, family mainly) and the manta ray (elegance and freedom) among the others.
The plain black parts are thought to be coloured with fillings of this kind: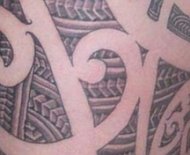 The blue colour reminds of the water (waves too are in this design), and helps better covering the old tattoo.
A curiosity: the old tattoo can be seen here.


High-resolution version:

[jpg]
Shoulder cover-up Maori tattoo preview

[jpg]
Shoulder cover-up Maori flash tattoo

[jpg]
Shoulder cover-up Maori tattoo stencil