Daniel had an existing tattoo on his shoulder, and a passion: motorbikes.
He thus requested us to extend his tattoo into a quarter sleeve featuring elements relating to bikes in a Polynesian style.
We placed a bike "passing" behind the old tattoo towards the front and incorporated other elements like handlebars with headlight, suspensions, spark plug and chain, all shown with colors in the image below: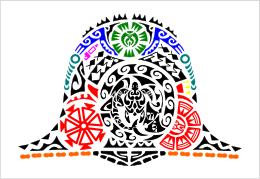 We shaped the standing stones at the base like the parts of a chain to symbolize Daniel´s achievements and created all parts with elements symbolizing freedom, adaptability, prosperity and protection.
High-resolution version:

[jpg]
Biker halfsleeve tattoo flash

[jpg]
Biker halfsleeve tattoo stencil