Tiny chose a fiddler crab for her tattoo.
From back to front the legs symbolize a difficult path (the path of Kamehameha) faced with adaptability, tenacity and strength (the octopus tentacles and the spearheads).
The chasing birds symbolize support always granted to the dear ones and the sea shell symbolizes love and protection while the koru represents new start, life.
The red poppy in the center symbolizes her nana. Red is symbolic of love, but below we also included an only black stylized version: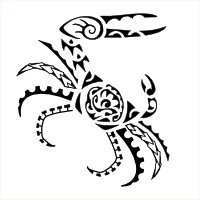 High-resolution version:

[jpg]
Fiddler crab tattoo flash

[jpg]
Fiddler crab tattoo stencil