DESCRIPTION AND MEANING:
The crocodile often appears in African legends as a symbol of strength, a mighty animal.
A Murut legend tells of a father crocodile who kidnapped a Murut woman to give advices to his wife who did not have any egg. Thanks to the help of the woman, the crocodile mother soon had eggs, and therefore the crocodile father took the woman back, and told her this: if she and her descendants tattooed two crocodiles on their shoulders or round their legs, they would be recognized as being friends, and they would not be attacked.
Kylie requested a realistic tribal crocodile for her ankle.
permalink: //www.tattootribes.com/index.php?idinfo=1208
NEW!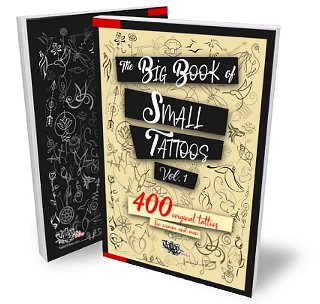 THE BIG BOOK OF SMALL TATTOOS
400+ small original tattoos for women and men
Whether you are approaching tattoos for the first time and want to start small, or you're a longtime fan and only have just that tiny little spot left, you will appreciate this book and its philosophy: small & meaningful.
Add color, and you'll have a design that is absolutely one of a kind and personal!


eBOOK:
$ 7.99
- PRINT:
$ 13.99
on Amazon!