DESCRIPTION AND MEANING:
Adinkra symbols were initially used to decorate fabrics and garments, but their inner beauty makes them perfect as tattoos as well.
FUNTUNFUNEFU DENKYEMFUNEFU is the perfect example of how a little symbol can hide a much greater meaning: its translation is "siamese crocodiles" and its related meaning is:
"unity in diversity, democracy", because since the two crocodiles share one single stomach, if a crocodile eats, everyone eats, and none of them survives without the other. That´s how democracy should work, where all the people are equal and depend one on each other.
permalink: //www.tattootribes.com/index.php?idinfo=212
NEW!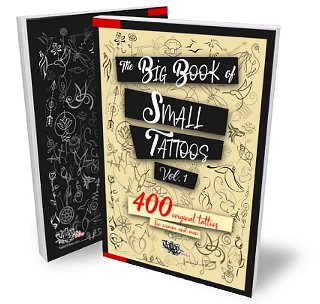 THE BIG BOOK OF SMALL TATTOOS
400+ small original tattoos for women and men
Whether you are approaching tattoos for the first time and want to start small, or you're a longtime fan and only have just that tiny little spot left, you will appreciate this book and its philosophy: small & meaningful.
Add color, and you'll have a design that is absolutely one of a kind and personal!


eBOOK:
$ 7.99
- PRINT:
$ 13.99
on Amazon!