DESCRIPTION AND MEANING:
This Adinkra symbol was sent by eBlack. It´s made of another Adinkra symbol, Gye Nyame, which means "god´s supremacy ", and of a black sun surrounding it.
In the Songhoi culture, the black colour, or "bibi", is a symbol of perfection and pureness. When the sun reaches up to the zenith, and is brightest, it´s called a "black sun".
It´s easy to understand how similar this is to the idea of Divine perfection.
This design means that God is above everything, and to him we owe what we have.
permalink: //www.tattootribes.com/index.php?idinfo=668
NEW!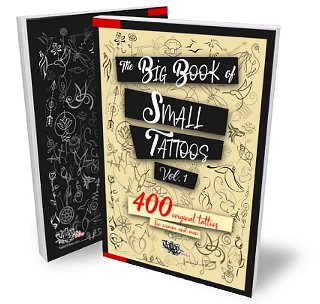 THE BIG BOOK OF SMALL TATTOOS
400+ small original tattoos for women and men
Whether you are approaching tattoos for the first time and want to start small, or you're a longtime fan and only have just that tiny little spot left, you will appreciate this book and its philosophy: small & meaningful.
Add color, and you'll have a design that is absolutely one of a kind and personal!


eBOOK:
$ 7.99
- PRINT:
$ 13.99
on Amazon!