DESCRIPTION AND MEANING:
The snake is an animal revered by many cultures. Its ability to renew itself by changing its skin made it often become a symbol of rebirth and fertility.
Shamans of American tribes respected it, and believed it to communicate to the gods, and to have healing powers.
In some occasions, a rattlesnake tail was used to symbolize the death and rebirth of the person for whom a rhyte was held.
The wolf, owl and bear too are sacred animals, symbolizing resistance, magic and strength.
Requested by Matt to go spiraling around his arm.
We prepared a colour version and the related version in shades of grey.
permalink: //www.tattootribes.com/index.php?idinfo=1553
NEW!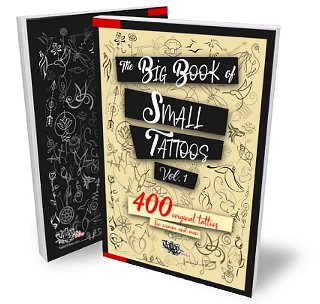 THE BIG BOOK OF SMALL TATTOOS
400+ small original tattoos for women and men
Whether you are approaching tattoos for the first time and want to start small, or you're a longtime fan and only have just that tiny little spot left, you will appreciate this book and its philosophy: small & meaningful.
Add color, and you'll have a design that is absolutely one of a kind and personal!


eBOOK:
$ 7.99
- PRINT:
$ 13.99
on Amazon!