DESCRIPTION AND MEANING:
Geishas are a typical figure in Japanese culture, and the term literally translates into "art woman". Geishas in fact are women who have been trained in the art of pleasing men, educated in every art and tradition, from playing music to singing, and mastering every form of entertainment, embodying the ideal of feminine beauty, quiet and sensual, always perfect.
A design of a stylized geisha was requested by Rossella
Traditionally, not a single hair or vest should be out of place, but we wanted to leave her shoulders naked to exalt her sensuality.
permalink: //www.tattootribes.com/index.php?idinfo=2007
NEW!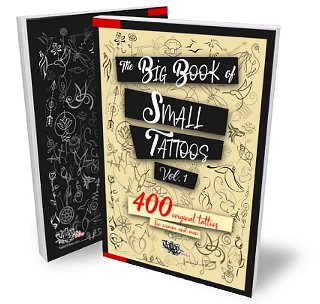 THE BIG BOOK OF SMALL TATTOOS
400+ small original tattoos for women and men
Whether you are approaching tattoos for the first time and want to start small, or you're a longtime fan and only have just that tiny little spot left, you will appreciate this book and its philosophy: small & meaningful.
Add color, and you'll have a design that is absolutely one of a kind and personal!


eBOOK:
$ 7.99
- PRINT:
$ 13.99
on Amazon!