DESCRIPTION AND MEANING:
Butterflies are undoubtedly a never aging design, loved by women especially, but by men as well. The butterfly, which as a caterpillar is earth-bound, turns into a crysalis and is born again to the world free of flying into the air, and the ancient compared this to the path of the human soul rising above earthly matters. That´s why the butterfly symbolizes the soul, and transformations.
Available in simplified version too: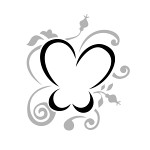 permalink: //www.tattootribes.com/index.php?idinfo=210
DO YOU LIKE SMALL TATTOOS?
You could get a FREE book!
Suggest a theme you'd like to see >
and if it gets in a new volume,
you get a FREE copy of it!