DESCRIPTION AND MEANING:
This tribal arm sleeve was made on a request by Daryl. I thought of using a stylized fern on the shoulder and stylized flames on the wrist to indicate transformation and a new beginning.
The attached image (1) shows how the finished tattoo looks like on the arm; image (2) show instead the full design. Both images have red letters to clearify how the flame patterns weave around the wrist.
Image (3) is the shoulder pattern, which the tattooist shall join to the wrist pattern from image (4), according to the original design and along the lines of the arm; images (5) and (6) are the related stencils.
permalink: //www.tattootribes.com/index.php?idinfo=257
NEW!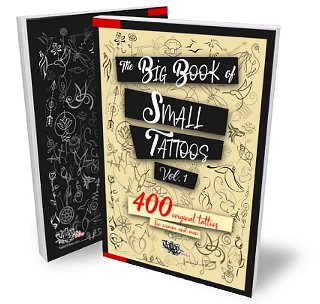 THE BIG BOOK OF SMALL TATTOOS
400+ small original tattoos for women and men
Whether you are approaching tattoos for the first time and want to start small, or you're a longtime fan and only have just that tiny little spot left, you will appreciate this book and its philosophy: small & meaningful.
Add color, and you'll have a design that is absolutely one of a kind and personal!


eBOOK:
$ 7.99
- PRINT:
$ 13.99
on Amazon!