DESCRIPTION AND MEANING:
Moon was always considered in every culture as important as the sun, which is her complementary opposite. As the sun rules the day, the moon rules the night.
Lunar cycles are connected to people´s inner spirit, like the sun is related to their exteriority. It´s the Yin principle whereas the sun is the Yang essence.
The moon rules the tides, and feelings and moods too, and it´s related to our past.
permalink: //www.tattootribes.com/index.php?idinfo=279
NEW!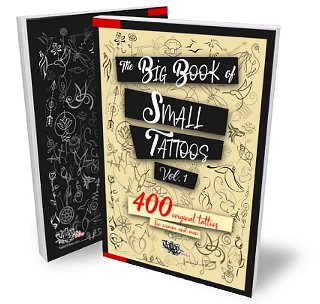 THE BIG BOOK OF SMALL TATTOOS
400+ small original tattoos for women and men
Whether you are approaching tattoos for the first time and want to start small, or you're a longtime fan and only have just that tiny little spot left, you will appreciate this book and its philosophy: small & meaningful.
Add color, and you'll have a design that is absolutely one of a kind and personal!


eBOOK:
$ 7.99
- PRINT:
$ 13.99
on Amazon!