DESCRIPTION AND MEANING:
Federica requested this design to celebrate her rebirth.
From the elbow, rolling around the arm to end on the shoulder this design represents her personal victory.
The skulls among the withered roses represent the dark period she was living and thorns represent pain; the first burgundy rose symbolizes unconscious beauty. She met a person who walked with her towards a change, represented by the leaves of the roses, which are a symbol of hope, and by the roses themselves blooming again (the yellow-orange symbolizing fascination), finally bloomig into a lotus flower which symbolizes perfection and overcoming adversities.
permalink: //www.tattootribes.com/index.php?idinfo=2799
NEW!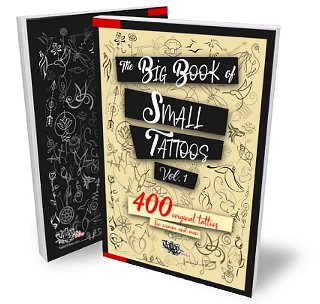 THE BIG BOOK OF SMALL TATTOOS
400+ small original tattoos for women and men
Whether you are approaching tattoos for the first time and want to start small, or you're a longtime fan and only have just that tiny little spot left, you will appreciate this book and its philosophy: small & meaningful.
Add color, and you'll have a design that is absolutely one of a kind and personal!


eBOOK:
$ 7.99
- PRINT:
$ 13.99
on Amazon!