DESCRIPTION AND MEANING:
Ana requested this design to go along her back to represent her love for her husband.
Inside the design their headletters I and A have been hidden together; ivy symbolizes committment, fidelity and tenacity; the myrtle leaves symbolize faithful love.
The smaller simplified version with the letters alone which can be seen by clicking on the image on the right, is for Ichiro´s wrist.
permalink: //www.tattootribes.com/index.php?idinfo=3074
NEW!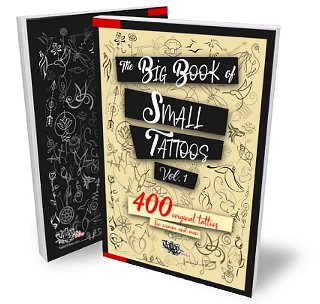 THE BIG BOOK OF SMALL TATTOOS
400+ small original tattoos for women and men
Whether you are approaching tattoos for the first time and want to start small, or you're a longtime fan and only have just that tiny little spot left, you will appreciate this book and its philosophy: small & meaningful.
Add color, and you'll have a design that is absolutely one of a kind and personal!


eBOOK:
$ 7.99
- PRINT:
$ 13.99
on Amazon!