DESCRIPTION AND MEANING:
But if you tame me, it will be as if the sun came to shine on my life.
I shall know the sound of a step that will be different from all the others.
Other steps send me hurrying back underneath the ground. Yours will call me, like music, out of my burrow.
And then look: you see the grain-fields down yonder?
I do not eat bread. Wheat is of no use to me. The wheat fields have nothing to say to me. And that is sad.
But you have hair that is the color of gold. Think how wonderful that will be when you have tamed me!
The grain, which is also golden, will bring me back the thought of you. And I shall love to listen to the wind in the wheat...
[...]And when the hour of his departure drew near-- "Ah," said the fox, "I shall cry."
"It is your own fault," said the little prince. "I never wished you any sort of harm; but you wanted me to tame you..."
"Yes, that is so," said the fox.
"But now you are going to cry!" said the little prince.
"Yes, that is so," said the fox.
"Then it has done you no good at all!"
"It has done me good," said the fox, "because of the color of the wheat fields."
From "The Little Prince" by Antoine de Saint-Exupèry
Tattoo prepared for Liana
permalink: //www.tattootribes.com/index.php?idinfo=6934
NEW!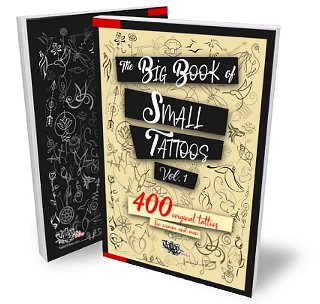 THE BIG BOOK OF SMALL TATTOOS
400+ small original tattoos for women and men
Whether you are approaching tattoos for the first time and want to start small, or you're a longtime fan and only have just that tiny little spot left, you will appreciate this book and its philosophy: small & meaningful.
Add color, and you'll have a design that is absolutely one of a kind and personal!


eBOOK:
$ 7.99
- PRINT:
$ 13.99
on Amazon!