DESCRIPTION AND MEANING:
There are some traditional Maori motifs used to enrichen the carved rafters of the meeting houses which appear more and more often in tattooing today, mainly filled with traditional patterns like these: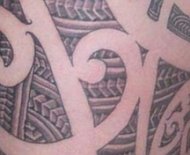 Among them, "koiri", symbolizing prosperity and indicating flourishing, prospering.
Of the two armband-like motifs published here, the first on top is a simplified version of the more traditional one below.
permalink: //www.tattootribes.com/index.php?idinfo=7336
WANNA KNOW MORE ABOUT THE SYMBOLS?
We have a site for that!
CHECK IT OUT >
And download the
FREE printable PDF cards of the symbols

!